The Young Guns
The Young Guns is a Mens BB USAV Volleyball team. This is our 5th season playing together. Together with Team Extreme and Horny Toads we form the Red Bank YMCA Volleyball Club.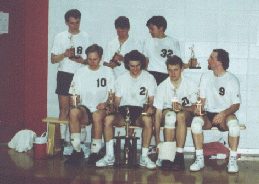 Back Row - Mat Mellon, Michael Faust, Bill Au
Front Row - Jay Borkenhagen, Cameron Gregory, David Tompkins, Karl Wickersham
Missing - Ron Egnot
The Young Guns!
---
Cameron Gregory - cameron@bloke.com